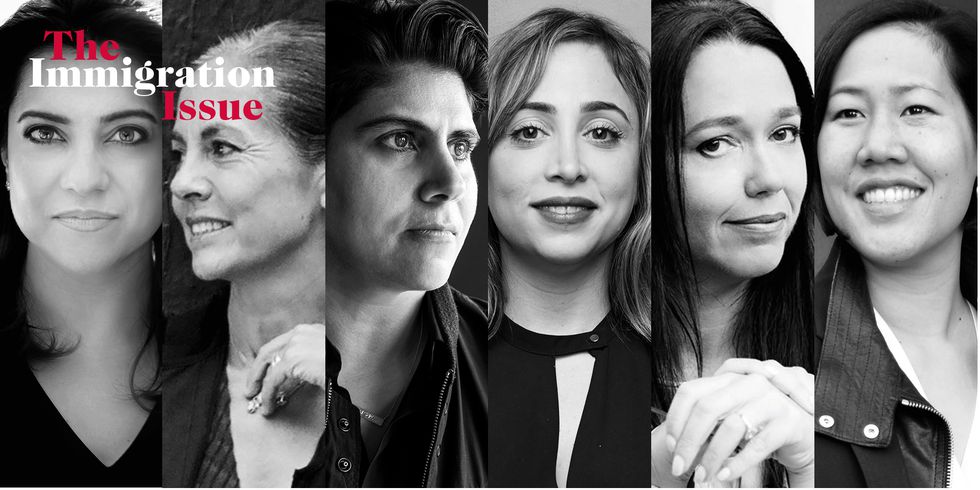 23 Aug

How Immigration Shaped These Female Founders and CEOs

by Brooke Hauser Aug 23, 2018
ENTREPRENEUR and SVP of Collaboration Technology Group, Cisco.
BEST KNOWN FOR: Cofounding Accompany, an app that provides users with mini dossiers on contacts in their email and social networks, which was acquired by Cisco for $270 million in May.
FAMILY ORIGIN: China.
BIRTHPLACE: Austin, Texas.
CURRENT RESIDENCE: Bay Area, California.
HER MOTHER'S STORY: Chang's mother came to the U.S. "with a couple hundred dollars in her pocket" and a scholarship to a university in the Deep South. She was accepted to UCLA but didn't get a scholarship; she headed there anyway by bus. "Now, she's this tiny five-foot-tall Chinese woman. Teeny tiny," Chang says. "She gets on the bus, and there's an immigration officer checking passports. He takes her passport and tells her he has to check and see if it is valid and real. She is trying to ask him, 'When can I have it back?' He just ignores her and takes the passport and walks away." She eventually made it to California, where she got fired from seven waitressing jobs "because her English is not great and she's small, so she can't hold that many plates." One day, scared and alone, she passed by a UCLA computer lab that was looking for punch-card workers; she applied for and got the job. "She ended up getting her grad degree in computer science at UCLA. She met my father there, and they started a life together," Chang says. "Instead of letting fear overtake her, she made a decision, ran with it, and course-corrected as she went. The story was part of what gave me the courage to start my own company."
A STORY ABOUT SELF-RELIANCE: Chang's parents fled to Taiwan from China during World War II. "Both of their families left everything and started over. And then they came here with nothing," she says. Knowing that history "makes you aware that your security—especially your financial security—is not a given," Chang says. "I grew up knowing I was going to have to bring it. Every single day. There's no free lunch. No free rides. No free anything, just sheer effort and persistence." She relates a story about the time she forgot her homework in the third grade and called her mom to ask her to bring it to school: "She said, 'Whose homework is it?' And I said, 'Mine.' And she said, 'Don't call me about this again.' And hung up. She was not going to bail me out. She taught me that you have to be responsible for not only you but also anything that has to do with you, or something that you want. You better be proactive and go get it."
I grew up knowing I was going to have to bring it. Every single day. There's no free lunch. No free rides. No free anything, just sheer effort and persistence.
TO ME, AMERICA MEANS: "Freedom, diversity, and a strong drive for original innovation."
ON DIVERSITY IN THE WORKPLACE: "At Accompany, we were over 50 percent women, and we didn't even have to try. We found the right people for the right job," says Chang, 41, who made it a priority for her company to research removing gender and ethnicity bias from the recruiting process.
AS A COUNTRY, WE NEED TO REMEMBER: "That 99.999 percent of us immigrated here. And when we did, we were welcomed…or we would have liked to be welcomed. I would like us to remember what it literally says on our own Statue of Liberty. This country can only continue to be the superpower that it is, the brain trust that it is, if we take talent from all over the world to continue to innovate and improve our products, our services…our everything. We need all the ideas. We cannot survive and continue to thrive without them."
View Article
From back in April 2017 in Marie Claire:
The Biggest Risk I Ever Took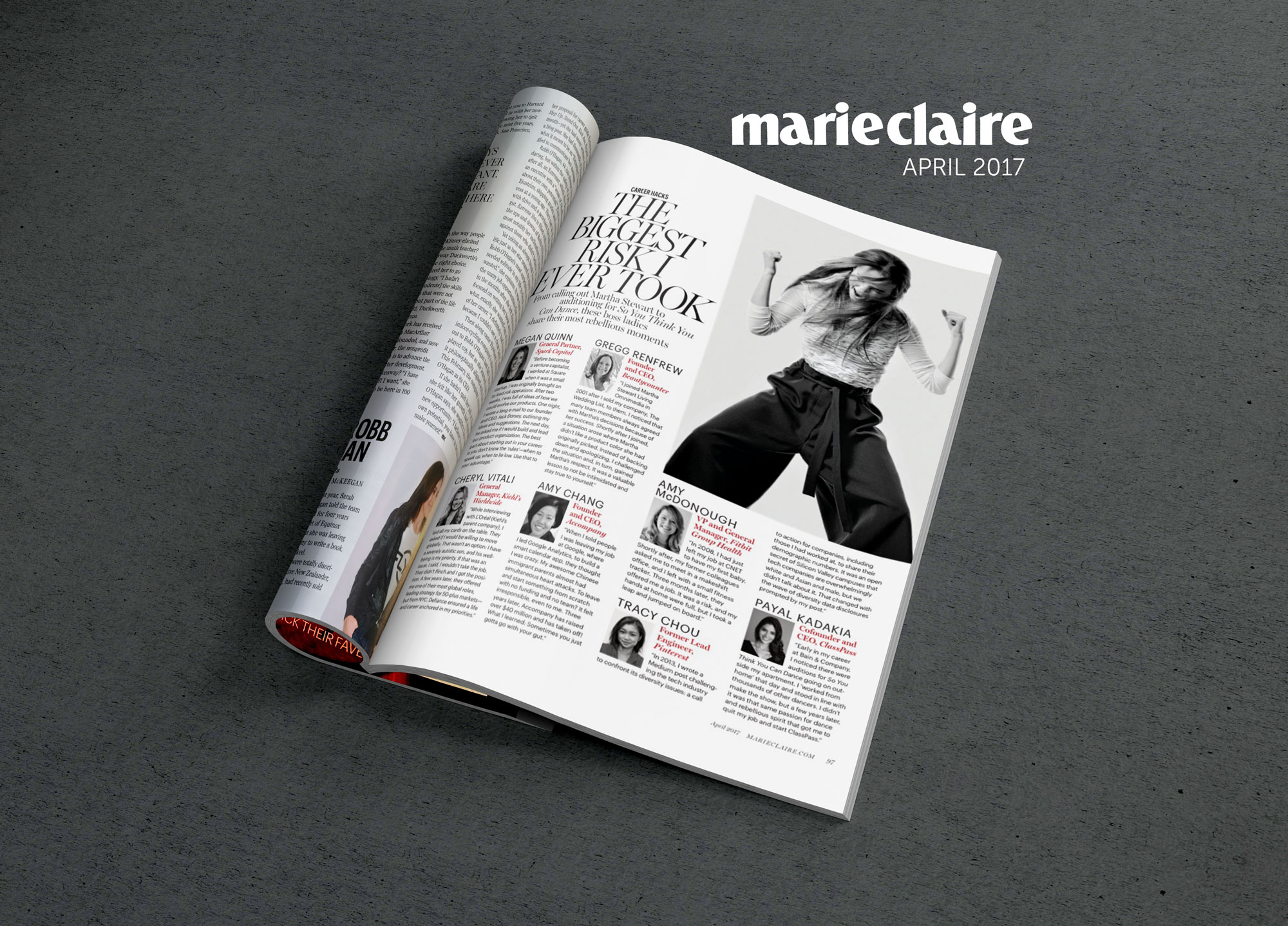 When I told people I was leaving my job at Google, where I led Google Analytics, to build a smart calendar app, they thought I was crazy. My awesome Chinese immigrant parents almost had simultaneous heart attacks. To leave and start something from scratch with no funding and no team? It felt irresponsible, even to me. Three years later, Accompany has raised over $40 million and has taken off! What I learned: Sometimes you just gotta go with your gut.